WHILL Trials Power Chair Service at Tampa International Airport
Tampa, FL – December 10, 2021 – WHILL is bringing enhanced mobility to passengers at Tampa International Airport (TPA). The trial program allows users to jump on a WHILL power chair and use it to navigate the terminal themselves. Traditionally, passengers with mobility limitations are pushed in a manual wheelchair by airline staff. This service is not only time-consuming and costly, but also limits the user's independence.
The power chairs are free to use – passengers simply sign a waiver, enter their name and flight info, and are then able to drive the device to shops, restaurants, or their gate. This solution was implemented in just days and could be easily scaled to meet the needs of the airport.
In total, the trial ran for 4 weeks and utilized 15 power chairs to transport passengers. Customer feedback was overwhelmingly positive, with passengers remarking that they loved having the independence to explore the airport and head to the gate on their own.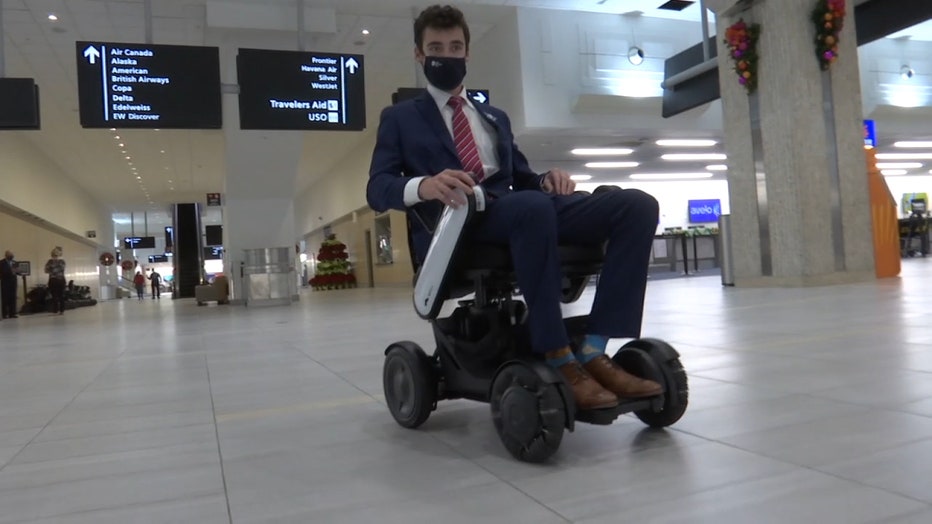 Officials at TPA say that a program like this could represent the future of personal transportation within the airport:
"Someone who may traditionally want to use a push service, we offer them the ability to do that on their own if they're comfortable navigating the airport," said Daniel Glennon, Director of Terminal Operations and Guest Experience at TPA. "Anybody can use them. It doesn't necessarily have to be an individual who has a mobility restriction or an impairment. Anyone who feels as though they can't make it to their gate by walking can ask their airline, 'Hey, can I get a wheelchair service' or just come up to the WHILL representative."
WHILL also offers an autonomous mobility service where the power chairs can navigate the venue independently.  The passenger simply selects their destination and the chair transports them without assistance from a staff member. This service has already been commercially implemented at the Tokyo International Airport in Japan.
Interested in incorporating this technology at your airport or venue? We can help transform your mobility offering from a traditional push service to an innovative fleet of user-driven or autonomous power chairs. Email us.sales@whill.inc for more information.